| | |
| --- | --- |
| | |
| Forum moderator: bigblog | |
Websites on the uCoz.com home page
Message # 1
|
1:42 PM
2012-08-23
If you know beautiful and quality websites, created with uCoz, you can suggest them to be placed on the uCoz
home page
in the block "Websites created with uCoz":
Websites, suggested in this thread, might also be posted in the
Directory of Best Websites Created with uCoz
.
Use the following form to submit a website:

1. Link to the website
2. Website subject
3. Short description of the website
4. Average number of hosts per day
5. Number of registered users
6. Screenshot of the website (not more than 500*500 px)

Note: only websites with paid removal of the ad banner are accepted.
The uCoz administration do not guarantee that a submitted website will be placed on the uCoz home page. The thread was created to collect quality websites.

Discussions and off-topic are not allowed in the thread.
---
I'm not active on the forum anymore. Please contact other forum staff.
Message # 2
|
1:26 PM
2013-03-06
1. Link to the website: http://www.affordablecebu.com/
2. Website subject: AffordableCebu Free Classified Ads
3. Short description of the website: Buy and sell online for free
4. Average number of hosts per day: 13,000 (as of March 2013)
5. Number of registered users: 23,546 (as of March 2013)
6. Screenshot of the website (not more than 500*500 px):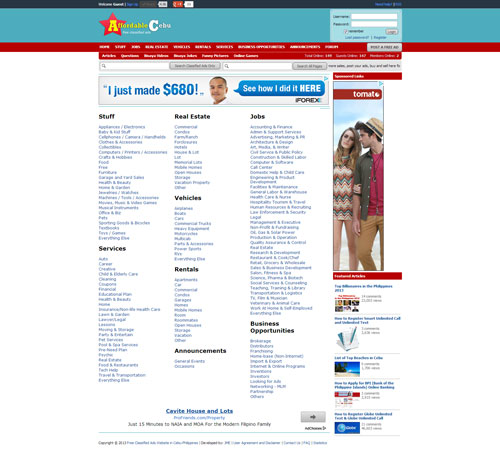 ---
Post edited by
khen
-
Wednesday, 2013-03-06, 1:46 PM
Message # 3
|
2:25 PM
2013-04-19
1. Link to the website: www.imagezfinder.com
2. Website subject: HQ Wallpapers
3. Short description of the website: ImagezFinder is a web site that allows you to view, edit, share, and download HQ wallpapers and images to your desktop.
4. Average number of hosts per day: Still New [ 54 according to top.ucoz.com ]
5. Number of registered users: N/A
6. Screenshot of the website :


---
Message # 4
|
8:29 AM
2014-11-05
1. Link to the website: http://www.egypthd.ga
2. Website subject: EGYPTHD
3. Short description of the website: This is the Official Website of EGYPTHD Group. It contains all shows, movies and TV series and also includes artistic news and star profiles, both Arabic and English.
4. Average number of hosts per day: 600 (as of october 2014)
5. Number of registered users: 17 (as of november 2014)
6. Screenshot of the website : (not more than 500*500 px): http://www.egypthd.ga/websiet.jpg
Post edited by
elsayed
-
Wednesday, 2014-11-05, 8:31 AM
Message # 5
|
10:37 AM
2014-11-05
1. Link to the website: http://shredded-factory.com
2. Website subject: Fitness, Health and Bodybuilding
3. Short description of the website: Shredded Factory has a motivation photo album, recipes,workouts,excercises and much more
4. Average number of hosts per day: 2000-4000 [3434 according to top.ucoz.com at 5/11/2014 ]
5. Number of registered users: 410
6. Screenshot of the website :


---
To busy building a passive income online ;)
Post edited by
Animorph
-
Wednesday, 2014-11-05, 10:37 AM
Message # 6
|
1:12 PM
2014-11-05
1. Link to the website: http://kuru-anime.com
2. Website subject: Anime
3. Short description of the website: An anime social network for otakus.
4. Average number of hosts per day: 20-30
5. Number of registered users: 179 (November 5, 2014)
6. Screenshot of the website (not more than 500*500 px)